Since my boys keep growing up :( I decided I should start to blog in order to keep a record of it. This is my first real blog, so bare with me as I learn.

Chaetun will be 4 in less than a week. I can't believe it. Time has gone so fast. He is so big and getting really tall. But he's a skinny thing. It's a good thing there are adjustable pants since in order to get the right length, we have to tighten the waist A LOT. He's been going to school this year and loves it! His teacher is Mrs Perry and she is great with him. He tells me everyday after school about his friends Caden, Austin, and Isabelle. He really likes Isabelle, but I don't think he really knows about girlfriends yet. We'll keep it that way :) He's learned a few things from school this year. He knows all of his letters by looking at them and knows the sounds for most of them as well. He went into school already knowing his shapes, colors and numbers, though he doesn't recognize his numbers yet. He has learned how to count to 5 in spanish as well as some of the colors in spanish. The last few weeks we have been working hard on writing his name. He has struggled a little bit (he IS only 3) but I think we finally got it. He was having a hard time getting the "U" but it finally clicked last night. He's so excited because when they are able to write their name at school they get to pick a treasure. It will finally be his turn.

Chaetun is also in Sunbeams this year. He really enjoys going to Primary, mostly because he gets to see his friends. We moved in February but continue to go to our old ward until our house is built. So, this is the only time he really gets to see his friends.



Xadun will be 2 on Easter. He is such a cutie!! Though he's not quite 2, he can talk quite well. I'm guessing that's because he's around his older brother so much and wants to be able to communicate with him. He is often heard saying, "Momma. I had good nap." He says this several times a day whether he just woke up or not. Xadun LOVES to play with his big brother, "Chee-tun". He has also just recently discovered Brekan. He was always good with him, but didn't really acknowledge him. In the last month or two he has started saying "Hi" to Brekan and gets so excited when Brekan smiles back or talks back to him. He loves to give hugs and just talk to him. Xadun is in the nursery at church, but has only been a handful of times in the last 6 months. We had a rough winter this year when it comes to sickness. Xadun seemed to be constantly sick this year. He seemed to catch everything, even when the rest of us didn't have anything. As soon as one sickness was over, within days he had something else. Most of this illnesses caused ear infections. We had to put tubes in in December. Unfortunately, he continues to get ear infections. We had an allergy/immunology work up done because he never seemed to get better. The tests came back negative for any immune system problems, so we don't really know why it is all happening. After we moved we had a good 6 or 7 weeks of wellness. It was nice!! He is sick again, though. I'm hoping this time it's just allergies and we can manage it through the spring and summer.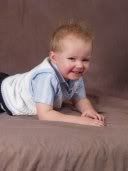 Brekan is doing great. He's still small for his age, but I love him that way. I love having small babies for a long time. He's 6 1/2 months now and doing really well. We spent about a week and a half in the NICU after he was born. Despite being part of a research study where I received Progesterone shots weekly and getting steroids at about 32 weeks, he still came early and had lung problems. He was on a ventilator for a couple of days and then a CPAP for a couple more days, but his lungs seemed to recover quickly, at least compared to Xadun. Brekan's lingering issue was eating by mouth. But we got that fixed and brought him home. Chaetun loved on him from the beginning, and as I said previously, Xadun was just indifferent until recently. In the last month or so Brekan has started to get to that fun state where he is all smiles, talks and laughs with you. He can almost roll from his back to his front, just has an arm in the way :) His back muscles finally seem to be strong enough to let him sit up and not fall forward and not be able to get back up. He also just started eating Oatmeal cereal yesterday. I tried giving him rice cereal about a month ago, but he was not at all into it. So, I gave it a rest and tried again. He likes it this time. The only bad thing right now is his aversion to sleeping at night, at least by himself. We haven't had a good nights' sleep yet. I know part of that is due to our living circumstances and he doesn't have his own room and we can't let him cry. I am hoping to get this issue resolved soon. I could really use a good night's sleep.


Chris and I are embarking on a new journey as well. We have recently bought 3 Anytime Fitness franchises. It's scary but exciting. Chris is very excited. The Anytime Fitness gym is a 24 hour gym that requires little staffing. It will allow us to be business owners, without the headache of most businesses. We created our own S-corp called XSclusive Fitness, Inc. and I am the President. That means I get 51% of the shares and Chris, the treasurer/secretary gets 49%. It really means nothing except that I am a female business owner and hope that helps in some ways.

They have finally started our new house. Yay. I will do more blogs on that as it progresses. We are excited to hopefully be in there by November.