Tuesday, April 22, 2008
This month we celebrated Chaetun & Xadun's birthdays. Chaetun turned 5 and Xadun turned 3. Because their birthdays are only 5 days apart, at this point in their lives we just celebrate them together. They both got presents ON their birthday and then the Saturday in between the two days we went bowling and had ice cream cake.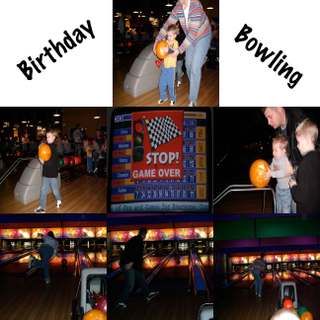 As you can see, the boys didn't do too bad for their first time bowling (of course there were bumpers). You can also see that I, the one who had a bowling class in college, sucked! :) My excuse is that I have to warm up. Since we only played one game, I didn't get adequate time to get that warm up. I probably would have done better by the third game. You can see in the present pictures, they loved the game so much, Xadun got his own bowling for the house.

(I've been wanting to make this post for quite some time now, but I needed to make collages and didn't know how. I figured it out today, as you can see.)

Posted by

Lissagerl
at 10:39 PM
1 comment:

As you can see, I have finally moved on with my layout and have figured how to make it cute. I finally found a site (Thanks, Janna!) and took the time to read the directions to figure out how to do it. I wanted it to be along the same lines as our zoo (in case you hadn't figured that out) and I was able to find some really cute paper. Of course, as I went along I also had to use Photo Shop which I had no idea how to do either. I found some great directions that gave me a start and I was able to start figuring some stuff out. It's kind of fun once you know what you're doing!! That could be bad, though, because now the whole digital scrapbooking thing looks a lot more fun :S

Posted by

Lissagerl
at 10:09 PM
1 comment:

Tuesday, April 1, 2008
Xadun had a really good day today. The potty training has been off and on since my last post due to me going to work, Friday, Saturday, and Monday, and I wasn't about to worry about it during church. So, today was the first all day since last Thursday. As I said, Xadun had a really good day and at one point, he even noticed that he needed to go and said he'd better go potty so he doesn't go in his underwear. I was very happy to hear that. As the day went on, I was thinking about being able to blog about such a great feat, but of course, it was too early. Close to bed time my mom brought Xadun up and I knew there must have been an accident, but it wasn't just pee, he pooped in his underwear. I didn't get upset and just talked to him about going in the toilet. He was really sad and kept telling me he was sorry he went poop in his underwear. He really was. And as we talked, he kept saying that next time he'll go in the toilet. I'm hoping that his slightly abnormal digestive system won't cause too many of these no time to run to the toilet type accidents. My mom said they were just playing downstairs when all of the sudden he stopped, and it had happened. I'm still calling it a good day, though. We're definitely making progress!

Posted by

Lissagerl
at 10:42 PM
3 comments: